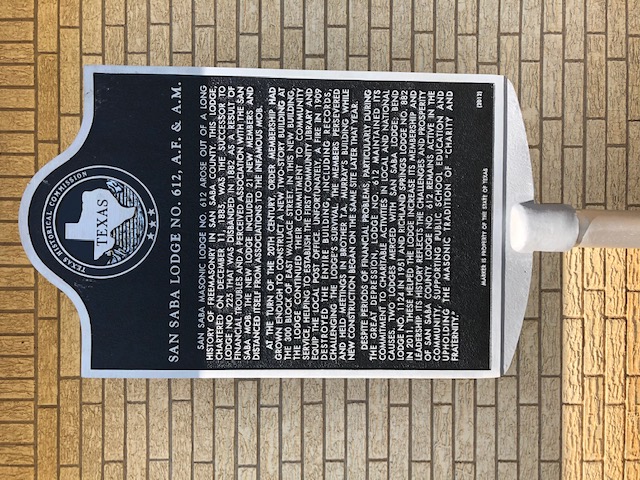 "San Saba Masonic Lodge No. 612 arose out of a long history of Freemasonry in San Saba County. This lodge, chartered on December 11, 1885, was the successor to Lodge No. 225 that was disbanded in 1882 as a result of financial troubles and a perceived association with the San Saba Mob. The new lodge included 21 new members and distanced itself from the associations to the infamous mob.
At the turn of the 20th century, order membership had grown enough to construct a new two-story building at the 300 block of East Wallace St. In this new building, the Lodge continued their community service, helping to establish the first community library and equip the local post office. Unfortunately, a fire in 1909 destroyed the entire building, including records, challenging the lodge's survival. The members persevered and held meetings in brother T.A. Murray's building while new construction began on the same site later that year.
Despite periods of financial problems, particularly during the great depression, Lodge No. 612 maintained its commitment to charitable activities in local and national caused. Two lodges merged with San Saba Lodge: Bend Lodge No 1124 in 1951 and Richland Springs Lodge No. 882 in 2011. These helped the lodge increase its membership and leadership. Its history reflects the challenges and prosperity of San Saba County. Lodge No. 612 remains active in the community, supporting public school education and upholding the Masonic tradition of "Charity and Fraternity."